REES manufactures a quality line of small dust collectors used inside the shop or plant and located near the production machinery. These stand-alone, enclosureless units are flexible in design, easy to install, and simple to maintain. The Model C and CX Dust Collectors have successfully collected dust and scrap waste for over 25 years in operations such as wood, plastics, rubber, and paper.
REES also provides other small to mid-sized dust collectors to a wide variety of industries. Applications that do not fit the Model C or CX collector may require a lower air to cloth ratio, a need for continuous cleaning, different storage options, or an outside installation. REES knows dust collectors and can specify the right one for you.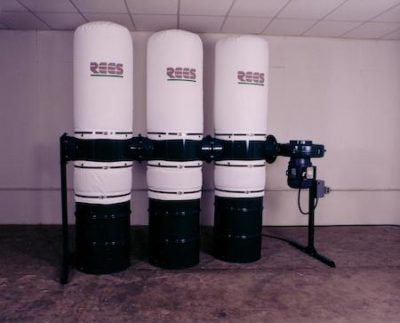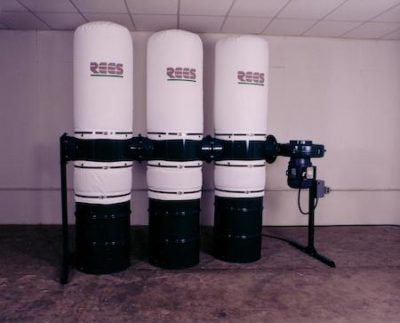 Model-C-Dust-Collector-e1613540594973
Model-C-Dust-Collector-e1613540594973
---
Features
Quality Construction
REES Dust Collectors are heavy-duty, compact and built to last. Heavy gauge carbon steel and continuous welded seams are manufacturing standards, and all bolted parts use 3/8" diameter bolts.
---
Efficient Operation
The REES collector is designed to efficiently separate particles from dust-laden air. Dust passes through the fan and into the dust collector modules where the heavier particles drop to the storage container and clean in-plant air is returned to the manufacturing area.
---
Flexible Design
Choose from 7 different CFM capacities and 1 to 8 dust collector modules to suit your particular application. The modular design allows you to add on in the future to increase filter area or storage capacity. For waste storage, use 55 gallon drums, plastic bags or cloth bags.
---
Easy Installation and Maintenance
Each dust collector is shipped with collector modules, filter bags, motorized fan, leg assemblies and miscellaneous parts for complete assembly. All components bolt together easily with hand tools. Maintenance involves periodic shaking of the upper filter bags to knock dust particles from the inside wall and emptying of the storage drums or lower bags as required.
---
Additional Information